Apr.27, 2017
These people were the top dogs of onecoin that ran by a "gang of criminals"  $2.9 million seized in India reported by MLM. 

DCP (Crime) Dilip Sawant added, "There are several groups that have been operating across India, by conducting seminars for investors and luring them with huge returns, but Navi Mumbai Police is the first to register an offence against the scamsters."

As the accused claimed that 'OneCoin' crypto currency was formulated by a woman in Bulgaria, police will investigate if they made any international banking transactions.
OneCoin are notorious for their shell companies and expansive money laundering network. Where the transaction history of the seized accounts lead Indian authorities remains to be seen.
In related news, the Bank of Thailand has issued an investment warning against OneCoin.
OneCoin under criminal investigation in Thailand, Juha Parhiala? 
Apr. 28, 2017 Reported by MLM 
The Department of Special Investigation are a division of Thailand's Ministry of Justice.
Top OneCoin investor Juha Parhiala and a close circle of his European countrymen have been operating out of Thailand for some time now.

At the time of publication BusinessForHome estimate Parhiala is stealing almost $5 million dollars a month from OneCoin affiliates.

Parhiala hasn't been seen or heard from in public in months. His otherwise active

Facebook profile was abandoned last November.

Whether Parhiala is still in Thailand or, like OneCoin Founder Ruja Ignatova, he's since fled to Dubai is unclear.

Top OneCoin investor Juha Parhiala and a close circle of his European countrymen have been operating out of Thailand for some time now.
At the time of publication BusinessForHome estimate Parhiala is stealing almost $5 million dollars a month from OneCoin affiliates.
Hooker arrested after making off with OneCoin scammer's stash
Dec.13, 2016 Reported by MLM
If the trend of single elderly European gentlemen attached to the MLM underbelly popping up in Asia left you thinking "hmmm", rest assured for most of them it was purely a business decision.
Nah, just kidding.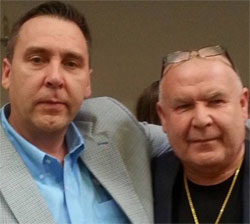 Kaj Naparstok (right, with Juha Parhiala) is from Finland and currently hiding out in Thailand.
In OneCoin marketing material, Naparstok is described as a "Team Leader".
Naparstok is participating in a "OneCoin Asia Tour", which has him and other "team leaders" currently scamming people in Cambodia
A few nights ago Naparstok returned to his hotel room with a female employee of Naga World casino.
Bang bang bang, long story short the next morning Naparstok woke to discover his… uh, guest, had made off with $88,929. https://goo.gl/Nz8yJq
JUHA PARHIALA BREAKS ULTIMATE RECORD
NOVEMBER 1, 2015
Juha Parhiala has hit the $1 million per month mark with his OneCoin distributorship. Juha is from Finland and resides in Thailand since many years. His worldwide organisation has $45 million volume per week and OneCoin has worldwide 600,000+ members.
Remarkable, as digital currency MLM OneCoin has started in September 2014, the company is headquartered in Europe with worldwide operations.
Asia is Onecoin's stronghold, however the company is expanding quickly in Europe thanks to the merger with Conligusin April 2015, who had a massive base there. The Steinkeller brothers, the founders of Conligus are at the $550,000 per month mark.
Juha has build 6 positions and max out 4 of them. In Onecoin he is a Crown Diamond with in his downline:
2,000+ Saphires

400+ Ruby

80+ Emeralds

30+ Diamonds

10+ Blue diamonds

4+ Black diamonds.
About OnceCoin
One is headquartered in Europe with worldwide operations. We focus on core markets such as South East Asian countries, Europe, India and Africa. The company is commited to growth and is opening new regional offices worldwide. The fast expansion is due to the growth of its traders and we have set the goal of creating a market with more than 1 million traders and issuing 2.1 bn OneCoins.
OneCoin is more than just a cryptocurrency. To make it successful and unique, we have created a whole concept and universe to make One a market leader in the crypto world. We offer core financial education on crypto-currency in the OneAcademy, an online exchange, and we partner with one of the hottest and newest hybrid crypto-currencies – the Aurum coin. OneCoin uses the latest cryptographic technology and security standards and has a solid marketing concept – enhanced by the OneLife Plan.
We offer a high-income opportunity with an extensive bonus program connected to the best lifestyle awards. We offer our traders a one time opportunity to profit from holding the two of the hottest and most innovative products in the emerging crypto-currency market – OneCoins and Aurum Gold Coins, an unique hybrid currency that is backed up by real and solid GOLD.
Cocaine, Women and Crime Bosses Biggest Scams in Crypto History
 by Todd Byrne
Multiple arrests, criminal investigations, community revolt and the closure of their last remaining bank accounts — the Onecoin saga continues down a well worn path as further details emerge on their attempt to implement an actual blockchain.
It wasn't until 2016 that the Bitcoin community really began to take notice of the ponzi scheme known as Onecoin. Relatively unknown in the US, it operated on the periphery, drowned out by bear markets, scaling debates and the fact that scams are a dime a dozen in the cryptocurrency world. With Onecoin, the question has never been whether it is a scam, but for how long the charade could last before eventually imploding.
Long time community members have seen it all before in scams like PayCoin — the grandiose promises that fail to eventuate, the shouting down of dissenting commentary and the glitzy, paid advertisements.
Then, as the ruse becomes increasingly obvious and the scam registers on the radar of authorities, new promises and assurances are given — the proverbial carrot on a stick — attempting to lure new suckers into the scheme and appease existing ones. Ponzi schemes can survive only as long as new money continues to flow in.
Dr Ruja Ignatova (.PDF) Dr-Ruja-Ignatova
Bulgarian Prosecutors Join In Anti-Money Laundering Operation Against OneCoin
BY TED NUYTEN
JANUARY 19, 2018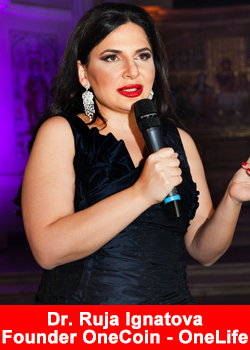 Bulgaria's Special Prosecutor's Office said on January 19 that it was involved in an international operation to neutralise a large-scale pyramid structure involving commercial fraud, multi-level marketing and money laundering through the creation and distribution of OneCoin.
OneCoin, which has an office in Sofia, describes itself as a virtual currency. In September 2016, it was the subject of a warning by the UK Financial Conduct Authority.
A statement by the Prosecutor's Office said that prosecutors and investigators from the Special Prosecutor's investigation unit, as well as officers from Bulgaria's directorate against organised crime and the State Agency for National Security, were involved in the international investigation.
This was on the basis of an international legal assistance order from the Prosecutor's Office in the German city of Bielefeld (North Rhine-Westphalia) which had arrived in October 2017.
Everything About Sebastian Greenwood
Here there will be a text about that and the history about Sebastians gray background and his friend and partner Bjorn Thomas. They are currently now working on the BIG Coin and Prospect Inc MLM company in Asia and are stealing money from people on a daily basis.
Please add your story to the blog and contact us so we collectively can get them both arrested together with the other people they work with on their new scam.
Sebastian Greenwood's partner Mr. Bjorn Thomas
About Sebastian Greenwood
Sebastian Greenwood
Sebastian Greenwood may just be the most well-rounded person you will ever meet. He is an accomplished deep-sea diver, he holds an international yachting license, and has travelled the globe extensively. There is much that can be said about Sebastian Greenwood.
Who is Sebastian Greenwood?
But even before that, his career took an early upward trajectory, when at the age of 20, he earned a degree in economics from the renowned Ostra Real in Stockholm. He quickly developed a reputation as a business leader, acquiring skills and knowledge that yielded exceptional results. Greenwood's educational track led him to a course in leadership at Frankfurt's European Business School. Sebastian's coursework focused on finance, leadership, and communication.
Less than three years later, Sebastian Greenwood found himself in a managerial position, which later lead to his first executive position. Not only did it give him the opportunity to refine his German language skills, he proved himself as a dynamic leader who could spearhead joint venture opportunities between multiple parties, fully analyze the financial aspects of such transactions, and do it all with the utmost of integrity and strongest of work ethics.
OneCoin is Greenwood's most recent venture. He is again proving himself to be an innovator in the growing market of crypto currency. Greenwood is a master distributor of OneCoin, a Cryptocurrency system that is revolutionizing the business world of today's digital economy.
Beyond that, he established the One World Foundation, the charitable arm of OneCoin. Through the charitable efforts of One World Foundation, children from the poorest areas of the world are given educational opportunities to which they might not otherwise have access. 
So, who is Sebastian Greenwood? Just your average highly-educated, well-respected, multi-lingual, innovative business leader/philanthropist who knows his way around a sailboat.
Read More updates news at Sebastian Greenwood News
From our community – our intel's and our team at cryptocurrency watch group with all of the evidence we have these people above are responsible for the Ponzi schemes list below…
Microhash.net Bitlake.biz Thunderbit.io Chain.group bitconnect.co 
They are involve with more Ponzi schemes that's not list here lack of 

evidence at this time.
More pictures… https://imgur.com/a/jSv9I
Legaljunkies… https://goo.gl/nR7TvU
Crypto888 Club blog…. https://goo.gl/J9gudw
OneCoin Exposed… https://goo.gl/HGjXE6
Hacked
Join our discord group.. https://discord.gg/ACXe45t
Dr Ruja Ignatova Associates: her father, her mother, Nigel Allen (Allan), Sebastian Greenwood, Juha Parhiala -OneCoin founder & queen -stealing 1 Million Euros from IG Metall (guilty 2016) -Funnels money through family members especially mother -BigCoin Nigel Allan (Allen) -Brilliant Carbon and Carbon credits -BigCoin -OneCoin (President & co-founder) – rumored was fired from OneCoin -Crypto888 – ALEKSANDER ROMANOV -Octa Partners -OctaCoin -Nano Club -Power On Network invest in XeCoins (Singapore owned by Global Power Pie).
Exergonix partner company.
Sebastian Greenwood (Master Distributor at OneCoin. OneCoin Crown Diamond) =Associates John Ng and Jarie Thorsen -BigCoin -BNA
-OneCoin -OneLife -Prosper Club (Prosper Inc HOng Kong and Dubai) – Ruja treasurer -SiteTalk/Unaico -Loopium (CEO, co-founder)
JUHA PARHIALA (OneCoin Crown Diamond) Associate: Kaj Naparstok -One of the top OneCoin distributors and promoters -Made $4-5 million dollars a month as a promoter. -Marketing for the OneCoin Asia Tour -Supposedly new CEO and owner Sharky Bar in Cambodia (Dec 2017).
Known for being "packed with customers (and) female entrepreneurs". – Having health problems and semi-retired from OneCoin Kaj Naparstok Associates: JUHA PARHIALA -Marketing for the OneCoin Asia Tour -History with Asian prostitutes John Ng -Founder of BigCoin